Gerard Edery & Laura Wetzler
"A World of Jewish Song"
In this concert of traditional music and original compositions, Gerard and Laura raise their voices in song to bring you an inspirational evening, rich in harmonies, infectious rhythms and masterful guitar playing.
Gerard Edery brings a vibrant, classically-trained baritone and the skills of a virtuoso guitarist to his original compositions and to the Judeo-Spanish literature, infusing inventive harmonies into his intricate arrangements. Considered one of the leading interpreters of Sephardic Song, Gerard Edery has garnered many awards including the 1997 Sephardic Musical Heritage Award and a Meet the Composer grant in 2000. Gerard has been featured in major concert halls and festivals in the US, Canada, Europe, the Far East, Israel, Morocco and Mexico. Gerard has released ten recordings on the Sefarad Records' label. "...Gerard Edery, a master of Sephardic song..." (New York Times) "Edery is a musical magician." (Jerusalem Post)
Laura Wetzler, ASCAP Award winning singer, songwriter, guitarist and ethnic folklorist tours internationally in over 150 concerts and lectures each year, singing 24 different programs of Jewish and American music in Hebrew, Ladino, Yiddish and English. Based in NYC, Laura began singing Jewish music as a child and has since appeared in major concert venues with such artists as Pete Seeger, David Amram, Odetta and the Klezmatics. Her new CD, Kabbalah Music, is getting rave reviews and is currently receiving air play on over 600 radio stations around the world, reaching the Top 10 on many world music charts. Laura is one of the very best" (Pete Seeger) "Laura Wetzler's voice -pure vocal ecstasy." (Jewish Entertainment Resources)
For bookings and information contact: This email address is being protected from spambots. You need JavaScript enabled to view it.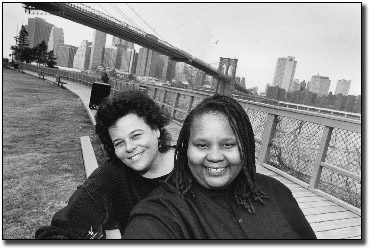 LAURA WETZLER & JANIECE THOMPSON


in
JEWELS OF THE DIASPORA
A Concert Celebration of African-American and Jewish Song
"The feedback we got from the audience was terrific. People said it touched their lives in a very profound way. Students who normally leave events at intermission were glued to their seats. The audience participation aspect was responded to with vigor, and the question and answer time at the end of the concert was very lively. People lingered for a long time afterwards. I don't know what the ordinary response is to the Jewels of the Diaspora concert, but if we are any indication, this is an event not to be missed.
Both Janiece and Laura are each musically gifted and together are an unbeatable duo. They work with beautiful synchronicity and joy, and that love of the task communicates itself to the audience. We were captured, mesmerized and thrilled by their work on our behalf. Somehow they manage to evoke a consciousness about difficult topics like racism and oppression in a way that seeps into ones bones and becomes a part of you.
To this day seven months later, I am reflecting upon their message." - Leona Phillips, PhD, Professor School of Human Services Springfield College, Springfield, Massachusetts
"This was much needed…the Jewels of the Diaspora Concert created an opportunity for many different organizations to come together and support each other by co-sponsoring an event…there has never been a group of musicians more suited to our needs and objectives as a multi-cultural organization.
Your presence on campus meant a great deal to us. - Marc Goldhaber, SUNY, Fredonia
"What a wonderful evening! The music is still reverberating in my ears and soul.
You 'rapt' everyone around your talented fingers. Thanks." - Norman Kaufman, Concert Benefactor
B'nai Jeshuran, NYC
"Wetzler adapted an Ethiopian [Jewish] song with a rhythmic call and response, 'Oho Mouna,' bringing a little known culture to wider audiences… the singers do wonders… rich voices…evocative and earthy." - Jewishculture.com
"Jewels of the Diaspora proves we can honor our ethnic identities,our many identities, and create something extraordinary together." – Educational Alliance, NYC
"Very exciting- one leaves feeling supported as a human being through the celebration of life." - Marya Warshaw, Brooklyn Arts Exchange
"On fire!…a hot, upbeat mix of music from around America and around the World…a fun, ecstatic explosion of Black and Jewish creativity." - Three Arrows Concerts, NY
"Great show!-exactly what our World Week celebration is all about."- Rutgers University
"On behalf of the Multi-cultural Center and the campus wide Committee on Human relations, thank you! Your performance was excellent! The "Jewels of the Diaspora" concert is a true representation of diversity at work…a great example of individuals from different backgrounds working together as one. Please join us again next season." - Shane Williamson, Director, Multicultural Center, Penn. State, Bloomsburg
LAURA WETZLER and JANIECE THOMPSON, two powerfully gifted voices rooted lovingly in their respective musical traditions, share a thunderous celebration of the human spirit in this unique concert event. "Jewels of the Diaspora" is an exciting evening ringing with songs of struggle, survival, freedom and peace from diverse African-American and Jewish sources, sung in English, Hebrew, Ladino (Judeo-Spanish), Yiddish and Amharic (Ethiopian).
This concert program is a continuation of 12 years of grassroots coalition work initiated by NYC singer, songwriter and ethnic folklorist Laura Wetzler in partnership with outstanding fellow artists Janiece Thompson, Rande Harris and many others. Begun before, and made more urgent by the infamous Crown Heights and LA riots, the "Jewels of the Diaspora" concert is a moving musical performance bringing together audiences from every background in community events and concert halls nationwide, exploring both difference and commonality in mutual respect and joy.
Concerts, Lectures, Q&A-Meet the Artist Post Performance and Residencies onvaried Multicultural topics explored through music:

"Jewels of the Diaspora- A Celebration of African-American & Jewish Music"

Essential Gifts: African-American Artists and American Vocal Music
"Souls on Fire! The Role of Music in Civil Rights Movements in the U.S. and around the World,"

"A World of Jewish Folk Music (from Uganda, Ethiopia, Calcutta, The Mideast, E. Europe and The US)

"Women in Gospel: The Heart of Black Musical Culture"
Call for a complete list, Contact:
Maggie Sash
This email address is being protected from spambots. You need JavaScript enabled to view it.
(413) 634-5617

JANIECE THOMPSON began singing Gospel music at age 4 when she became star soloist with The Thompson Family Singers, touring extensively under the direction of her mother, a church music director. A highly respected New York concert and session singer, Janiece has recorded as featured soloist with The Lavender Light Gospel Choir, appeared on PBS and toured with Lavender Light, The Crossroad Singers, and the women's Gospel quartet Pillars of Salt. She is experienced in every style of African-American vocal music, including Gospel, R&B, folk, Pop and Jazz."The most beautiful, powerful voice I've heard in a long time."
Ellie Covan, Dixon Place NYC
ASCAP Award Winning singer-songwriter LAURA WETZLER tours in over 150 concerts and lectures a year, singing critically acclaimed original American songs and Jewish Roots Music from all over the world. Laura's music has been heard on TV & in independent film (PBS; UPN; cable.) and her recordings, Songwriter's Notebook and A World of Jewish Folk Music currently receive airplay on over 300 radio stations around the world. Like Janiece, Laura's mother, a music director and folk DJ, was her earliest musical influence."An amazingly gifted singer, songwriter and ethnic folklorist." David Amram, composer
Selected Credits:
Rutgers University (twice)
SUNY Buffalo
Wagner College
Roger Williams College
SUNY Fredonia
Bloomsburg University (twice)
Association of Performing Arts Presenters
National Conference
The Open Center, NYC (twice)
Educational Alliance, NYC
The Annenberg Foundation/
NYC Board of Education
The Astraea Foundation, NYCIncourage Fund
National Conference of Multicultural Families (twice)
Brooklyn Arts Exchange, NYC (twice)
Prospect Park Alliance
(as "Musicians Against Violence")
World Fellowship Conference, Conway, N.H.
Unitarian Fellowship, Northampton, MA
Greenwich Village Festival
Three Arrows Arts Festival
Workman's Circle, Bronx, NYC
Outmusic Festival
B'nai Jeshuran, NYC
Jewish Retreat Center
Louisa May Alcott School, NYC
Global School, NYC
Whole Foods Project, NYC
Bailey House AIDS Residence, NYC
Kolot Heinu
SOB's
Contact:
Maggie Sash
This email address is being protected from spambots. You need JavaScript enabled to view it.
(413) 634-5617
A World of Jewish Roots Music

"A World of Jewish Roots Music" features exciting songs from Greece, Turkey, Spain, Uganda, India, Yemen, Ethiopia, Eastern Europe, Israel and the U.S. sung in Hebrew, Yiddish,
Ladino (Judeo-Spanish) and English.
"What glorious singing!
exciting, up-beat, joyous."
-Workman's Circle, NYC

"An extraordinarily
gifted musician,
electric and inspiring"
-The Jewish Retreat Center, CT

"Impressive poetic gifts."
-New York Times Radio

"a mission with melody."
- Baltimore Jewish Times

For concert and lecture booking:
Maggie Sash
This email address is being protected from spambots. You need JavaScript enabled to view it.(413) 634-5617 EST

Produced in concert by the following organizations:
(partial listing)
National Yiddish Book Center
Jewish Federations
JCC Association
UJA Mobilization
New York Board of Rabbis
92nd St. Y
Hillel
Hadassah
ORT
Workman's Circle
Elderhostel International
B'nai Brith
Israel Bonds
Amit Women
Cami Hall, NYC
Holocaust Museum
National Council of Jewish Women
Educational Alliance
Jewish Currents Magazine
Jewish Book Fair NYC
Jewish Arts Festival
Central Park Bandshell
Institute of Jewish Studies, LI
YM-YWHA
UAHC
United Synagogue Youth
The New York Open Center
Hudson Waterfront Museum
Brooklyn Arts Council
Folk Music Society of NY
Annenberg Foundation, NYC Schools
Hospital Audiences, Inc.
nited Federation of Teachers
Yale University
Rutgers University
Arts Presentors Conference, NYC
CAJE Conference
Aleph-Tikkun Conference
AND OVER 1500 TEMPLE, SYNAGOGUE &
COLLEGE CONCERTS AND LECTURES
NATIONWIDE
ASCAP Award Winning singer-songwriter LAURA WETZLER tours in over 150 concert, lecture, TV and radio appearances each year, singing World Jewish Roots Music, original Contemporary Folk, and the great classics of American song. Her CD, Songwriter's Notebook (songs.com) is on many top 10 lists, receiving airplay on over 300+ radio stations around the world. She is featured on the new Seeds of Peace CD with Harry Belafonte, Pete Seeger and Debbie Friedman. Laura shares stages with such artists as The Klezmatics, David Amram, Odetta and folk legend Pete Seeger has presented her song B'makom-In A Place, based on Hillel, in concert. Laura is well known for bridging Jewish culture and other world cultures in celebrations of song. Her many programs feature beautiful songs in wonderful renditions, sung in English, Hebrew, Ladino and Yiddish. Laura appears in NYC's top clubs, cabarets and concert halls and in hundreds of special events nationwide. Featured nationally on UPN WOR TV, at Jewishculture.com and in Moment, Lilith and SING OUT! magazines.
Laura was recently a guest soloist at the Israeli Embassy concert tribute to Issachar Miron (composer of Tzena, Tzena) and will soon be recording several of Mr. Miron's songs.
"A wonderful celebration. I was absolutely overwhelmed by the excellence of your presentations. You touch an audience in a way that is experienced all too rarely. Inspirational. ...this Kallah weekend has been the best of a very distinguished series. "
- Judy Meltzer, Chizuk Emunah, Baltimore
"Spirited and beautiful"
- Dr. Ruth Westheimer, President, YM-YWHA, Washington Heights, NYC
"Laura brings a special warmth and heimishness."
- Jewish Currents Magazine
"In a time of renewed interest in traditional music, there are only a handful of singers who can really perform the enormously sophisticated and varied styles of Jewish music from around the world. Laura is one who is keeping the flame alive - an amazingly gifted singer, songwriter and ethnic folklorist."
- David Amram, composer/conductor
"Great voice, great writing"
- WBAI/FM, NYC
"Laura Wetzler is sensational. We invite her back again and again because our audiences love her. She is accomplished in a fascinating repertoire, always fresh, with a terrific voice."
- Peter Malinow, Educational Alliance, NYC
"Laura's engaging spirit comes through in everything she does, whether singing her own material or drawing from other sources. She is at home in all the Jewish mediums: Israeli Hebrew; the Sephardic and Mizraki traditions; Yiddish; Contemporary Folk; and American classics. Musical time spent with Laura Wetzler is time very well spent."
- Rabbi Balfour Brickner, Stephen Wise Free Synagogue, NYC
"Give this a listen. Laura Wetzler was a real find for me...
a clear, soaring voiceexceptionally compelling."
- Lyn Wenzel, New Directions, NYC
For concert and lecture booking:
Maggie Sash
This email address is being protected from spambots. You need JavaScript enabled to view it.(413) 634-5617 EST
CONCERTS & LECTURES
(partial listing)
Songwriter's Notebook
A World of Jewish Folk Music
(songs from Uganda, Ethiopia, Calcutta,
the Mideast, Europe and the US)
Songs of the Lost Communities (Holocaust)
Jewels of the Diaspora African-American and Jewish Song Duo
Adventures in Sephardic/Mizraki Jewish Song
Songs of Healing and Wonder
Kabbalah in Song
Z'mirot From the Whole Jewish World
Jewish Women in Jewish Song
The Hitmakers: Jewish Roots, American Dreams
Fabulous Showbiz Divas: The Nice Jewish Girls
The "Jewish" Musicals
Great Jewish Performers Series
Songpoets of Social Change
Broadway Belters & Torch Mamas
The Lyric and The Lyricist
Jewish Melody Makers of the American Musical
Kidsong Songwriting Workshops
American Songbirds
( more descriptions at: concerts and lectures)
For concert and lecture booking:
Maggie Sash
This email address is being protected from spambots. You need JavaScript enabled to view it.(413) 634-5617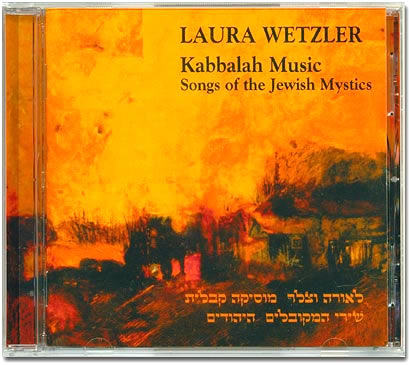 Kabbalah Music: Songs of the Jewish Mystics
In a concert of hauntingly beautiful songs based on 3300 years of Jewish mystical poetry from communities all over the world, Laura Wetzler's voice spins out threads of spiritual yearning across time and place. These songs, written by devoted paytanim (liturgical poets), were meant to help one ecstatically ascend to the higher chambers or hekhalot and connect with the Divine Spirit. Kabbalah Music-Songs of the Jewish Mystics features traditional and newly composed songs from Morocco, Spain, Greece, Calcutta, Syria, Uganda, Turkey, Yemen, Israel, Eastern Europe, the U.S. and many other lands, sung in English, Hebrew, Yiddish and Ladino (Judeo-Spanish). Explore this rich tradition of sacred Hebrew poetry from the Torah to Alkabetz (Safed) to Shabazi (Yemen) to Reb. Nachman (Poland) and beyond, all expressing in song a joyous yearning for devekut or union with Ayn Sof (The Infinite One).
"A fascinating new album… vastly impressive… superb performances… a major achievement."
Robert Sherman, The New York Times, WFUV
"Laura writes songs that are magical…truly beautiful...haunting
…and what an instrument- [her voice] always full of color and emotion,
stretching its range and timbre at every turn… pure vocal ecstasy."
Judy Caplan Ginsburgh, Jewish Entertainment Resources
"Reminds me of Reb. Shlomo Carlebach in her versatility and ability to sing
for all kinds of audiences and bring people closer. I absolutely love this CD… spectacular mix of music... voice and music so vibrant and alive… she speaks to my neshoma (soul.) All the rebbes and kabbalists are shepping nachas (feeling proud)."
Michelle Garner, WSIA, NYC
"Spirited and beautiful"
Hadassah Magazine
"Laura does a terrific job of presenting a focused, coherent overview of Jewish music's span and scope…carefully annotated…Wetzler is a versatile, affecting vocalist who is up to the linguistic challenge of singing in English, Hebrew, Aramaic, Yiddish, Ladino and Lugandan-Hebrew dialect, as well as the challenge of tackling the different styles of singing, from Arabic-style chanting to American folk to the more cantorial-based Ashkenazic modes. A masterful work of folklore and scholarship, as well as a beautifully performed work of original, traditional-based music. 'Kabbalah Music' is one of the best albums of new Jewish music in the past decade and establishes Wetzler in the forefront of the rich, exciting renaissance of contemporary Jewish music"
Seth Rogovoy, Author, The Essential Klezmer, WAMC Public Radio
"Laura Wetzler fills this haunting disc with an hour of music that comes to
her and her listeners from across centuries…Kabbalah Music is simple beauty and big ideas…deep and affecting songs …unified here by Wetzler's beautiful voice....satisfies rhythmically like all the best world music"
Larry Parnass, Daily Hampshire Gazette
"Great Music. Sounds beautiful on the air…adds a wonderful
new dimension to my program."
Barry Reisman WNUR, Philadelphia
"Top 10 World Charts"
Toronto Radio
"Great!"
Michael Stock, WLRN, Miami
"...marriage of Jewish music and Jewish ethics… a breadth of musical learning wedded to a depth of emotional concern that leaps out of every note she plays and sings."
George Robinson, The Jewish Week, NYC
"Laura reflects in her heart the beauty of the Jewish soul, sustaining with her singing the eternally youthful springs of our heritage."
Issachar Miron, Composer of the classic Weavers hit 'Tzena, Tzena'
"…she's won over wildly divergent audiences across the country… a unique mix you won't hear from anyone else… always delights audiences...a 'one-of-a-kind singer-songwriter.' "
Sheryl Hunter, The Record
"Though Wetzler pulls many songs from what she sees and feels, she is also
adept at delivering well-researched and artful renderings of ethnic folk……
she is the truest citizen of the world."
Larry Parnass, Daily Hampshire Gazette
"What an eye opening album. I was intrigued…impressed by the breadth of sounds and influences. This album is both mystical and inspirational"
Terry Lindsay, WITR, Rochester
ASCAP Award Winning Singer-Songwriter
Laura Wetzler
Kabbalah Music
Songs of the Jewish Mystics
Meditations, Devotions and Ecstasies,
New and Old, from Around the World.

Special Guests

Alicia Svigals and Lorin Sklamberg
of the Klezmatics
JJ Keki and Gershom Sizomu
of the Abayudaya Jews of Uganda
Master percussionist Amir Chehade
Sacred Worldbeat Jewish music from
Uganda, Italy, India, Spain, Yemen, Iraq, Greece,
Morocco, Eastern Europe, & the U.S., including
new songs by Laura Wetzler.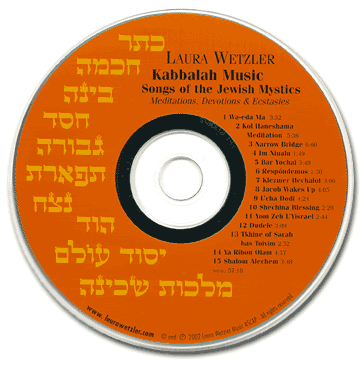 15 beautiful songs,
traditional mystical imagery
from the Torah, the Zohar,
the Hechalot poets, Ibn Ezra, Gerondi,
the "Ari," Najara, Alkabetz,
Labi, Shabazi, Nachman of Bratzlav,
Levi Yitzak of Berdichev, Sarah Bas Toivim and more.
Translations, transliterations and annotations included.
LAURA WETZLER
tours internationally in over 150 concerts lectures and workshops each year.
For information on 23 different programs: www.laurawetzler.com
Photo by Kim Hanson

"There are sanctuaries in heaven that can only be opened with song."
The Zohar
"The mystic hears singing everywhere."
Amnon Shiloah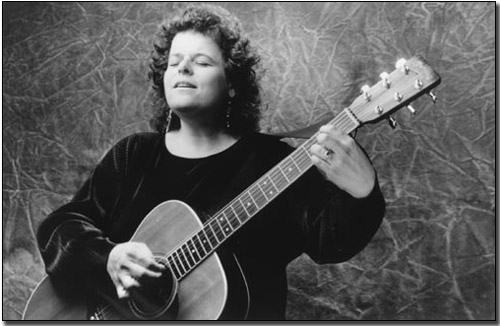 "Laura Wetzler" - photo credit: Kim Hanson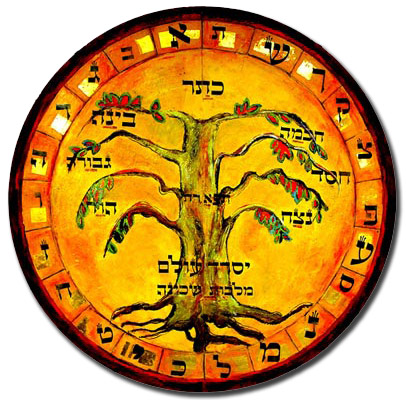 "32 Paths of Wisdom" c Angela Milner, 7' Round
Kabbalah Music Concert & Exhibit