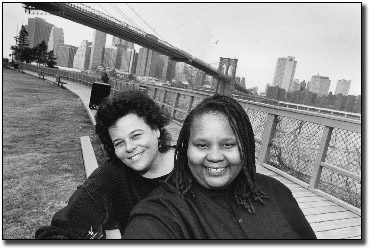 LAURA WETZLER & JANIECE THOMPSON


in
JEWELS OF THE DIASPORA
A Concert Celebration of African-American and Jewish Song
"The feedback we got from the audience was terrific. People said it touched their lives in a very profound way. Students who normally leave events at intermission were glued to their seats. The audience participation aspect was responded to with vigor, and the question and answer time at the end of the concert was very lively. People lingered for a long time afterwards. I don't know what the ordinary response is to the Jewels of the Diaspora concert, but if we are any indication, this is an event not to be missed.
Both Janiece and Laura are each musically gifted and together are an unbeatable duo. They work with beautiful synchronicity and joy, and that love of the task communicates itself to the audience. We were captured, mesmerized and thrilled by their work on our behalf. Somehow they manage to evoke a consciousness about difficult topics like racism and oppression in a way that seeps into ones bones and becomes a part of you.
To this day seven months later, I am reflecting upon their message." - Leona Phillips, PhD, Professor School of Human Services Springfield College, Springfield, Massachusetts
"This was much needed…the Jewels of the Diaspora Concert created an opportunity for many different organizations to come together and support each other by co-sponsoring an event…there has never been a group of musicians more suited to our needs and objectives as a multi-cultural organization.
Your presence on campus meant a great deal to us. - Marc Goldhaber, SUNY, Fredonia
"What a wonderful evening! The music is still reverberating in my ears and soul.
You 'rapt' everyone around your talented fingers. Thanks." - Norman Kaufman, Concert Benefactor
B'nai Jeshuran, NYC
"Wetzler adapted an Ethiopian [Jewish] song with a rhythmic call and response, 'Oho Mouna,' bringing a little known culture to wider audiences… the singers do wonders… rich voices…evocative and earthy." - Jewishculture.com
"Jewels of the Diaspora proves we can honor our ethnic identities,our many identities, and create something extraordinary together." – Educational Alliance, NYC
"Very exciting- one leaves feeling supported as a human being through the celebration of life." - Marya Warshaw, Brooklyn Arts Exchange
"On fire!…a hot, upbeat mix of music from around America and around the World…a fun, ecstatic explosion of Black and Jewish creativity." - Three Arrows Concerts, NY
"Great show!-exactly what our World Week celebration is all about."- Rutgers University
"On behalf of the Multi-cultural Center and the campus wide Committee on Human relations, thank you! Your performance was excellent! The "Jewels of the Diaspora" concert is a true representation of diversity at work…a great example of individuals from different backgrounds working together as one. Please join us again next season." - Shane Williamson, Director, Multicultural Center, Penn. State, Bloomsburg
LAURA WETZLER and JANIECE THOMPSON, two powerfully gifted voices rooted lovingly in their respective musical traditions, share a thunderous celebration of the human spirit in this unique concert event. "Jewels of the Diaspora" is an exciting evening ringing with songs of struggle, survival, freedom and peace from diverse African-American and Jewish sources, sung in English, Hebrew, Ladino (Judeo-Spanish), Yiddish and Amharic (Ethiopian).
This concert program is a continuation of 12 years of grassroots coalition work initiated by NYC singer, songwriter and ethnic folklorist Laura Wetzler in partnership with outstanding fellow artists Janiece Thompson, Rande Harris and many others. Begun before, and made more urgent by the infamous Crown Heights and LA riots, the "Jewels of the Diaspora" concert is a moving musical performance bringing together audiences from every background in community events and concert halls nationwide, exploring both difference and commonality in mutual respect and joy.
Concerts, Lectures, Q&A-Meet the Artist Post Performance and Residencies onvaried Multicultural topics explored through music:

"Jewels of the Diaspora- A Celebration of African-American & Jewish Music"

Essential Gifts: African-American Artists and American Vocal Music
"Souls on Fire! The Role of Music in Civil Rights Movements in the U.S. and around the World,"

"A World of Jewish Folk Music (from Uganda, Ethiopia, Calcutta, The Mideast, E. Europe and The US)

"Women in Gospel: The Heart of Black Musical Culture"
Call for a complete list, Contact:
Maggie Sash
This email address is being protected from spambots. You need JavaScript enabled to view it.
(413) 634-5617

JANIECE THOMPSON began singing Gospel music at age 4 when she became star soloist with The Thompson Family Singers, touring extensively under the direction of her mother, a church music director. A highly respected New York concert and session singer, Janiece has recorded as featured soloist with The Lavender Light Gospel Choir, appeared on PBS and toured with Lavender Light, The Crossroad Singers, and the women's Gospel quartet Pillars of Salt. She is experienced in every style of African-American vocal music, including Gospel, R&B, folk, Pop and Jazz."The most beautiful, powerful voice I've heard in a long time."
Ellie Covan, Dixon Place NYC
ASCAP Award Winning singer-songwriter LAURA WETZLER tours in over 150 concerts and lectures a year, singing critically acclaimed original American songs and Jewish Roots Music from all over the world. Laura's music has been heard on TV & in independent film (PBS; UPN; cable.) and her recordings, Songwriter's Notebook and A World of Jewish Folk Music currently receive airplay on over 300 radio stations around the world. Like Janiece, Laura's mother, a music director and folk DJ, was her earliest musical influence."An amazingly gifted singer, songwriter and ethnic folklorist." David Amram, composer
Selected Credits:
Rutgers University (twice)
SUNY Buffalo
Wagner College
Roger Williams College
SUNY Fredonia
Bloomsburg University (twice)
Association of Performing Arts Presenters
National Conference
The Open Center, NYC (twice)
Educational Alliance, NYC
The Annenberg Foundation/
NYC Board of Education
The Astraea Foundation, NYCIncourage Fund
National Conference of Multicultural Families (twice)
Brooklyn Arts Exchange, NYC (twice)
Prospect Park Alliance
(as "Musicians Against Violence")
World Fellowship Conference, Conway, N.H.
Unitarian Fellowship, Northampton, MA
Greenwich Village Festival
Three Arrows Arts Festival
Workman's Circle, Bronx, NYC
Outmusic Festival
B'nai Jeshuran, NYC
Jewish Retreat Center
Louisa May Alcott School, NYC
Global School, NYC
Whole Foods Project, NYC
Bailey House AIDS Residence, NYC
Kolot Heinu
SOB's
Contact:
Maggie Sash
This email address is being protected from spambots. You need JavaScript enabled to view it.
(413) 634-5617