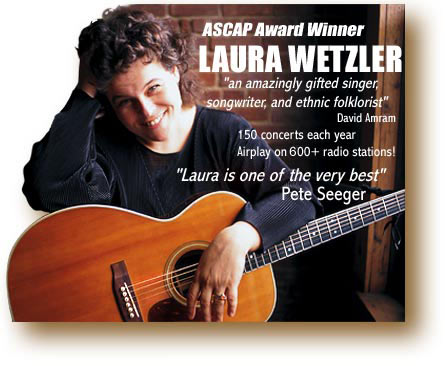 See Laura Wetzler In Concert
ASCAP Award-winning singer-songwriter LAURA WETZLER tours in over 150 concerts and lectures each year, singing critically-acclaimed Contemporary Folk / Americana originals, World Jewish Roots Music in Hebrew, Yiddish and Ladino (Judeo-Spanish) and the great classics of American songwriting.
Singer - Songwriter - Guitarist touring NOW in
"Songs of Resistance, Hope & Love"
"Laura Wetzler fires up audiences caught speechless in the new American emergency, recalling history, shaking off despair, and singing us forward."

- Prof. Susan O'Hara

"In a place where no one's acting like a human being, we must strive to be more human than this world we're seeing." © Laura Wetzler B'makom-In A Place (Wetzler/Hillel) from the CD Songwriter's Notebook.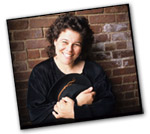 Hi. Welcome to the kid's page. Thanks for coming by to visit. I am so excited to share my new CD, Again! Again! with you. I hope you like it. We have included the song lyrics here so you can print them out and sing along with me. I would love to hear from you. If it is ok with your parents, write me a note and tell me what you think.
Love, Laura

Contact Laura for Again! Again! Children's Concert and educational songwriting workshops for kids.
Song commissions also available.

This email address is being protected from spambots. You need JavaScript enabled to view it. or Laura Wetzler c/o Nervy Girl Records Box 26 Cummington, Ma 01026
Dancing Geese © 2009
Annette Rubino-Buckley
Cartoons © 2009 Laura Wetzler


Why did you call the CD Again! Again!
That's what kids would say to me when I finished singing the songs. It's the greatest compliment a singer can get so I made it the CD title.
Is this your only kids CD?
I used to teach kids music years ago, but now I travel around singing concerts and writing songs mostly for grown-ups. Writing for kids was really different for me and lots of fun. This is my only CD made especially for kids.
Why did you write these songs?
These songs were inspired by real kids I know and love, for all kids and parents to enjoy. I wanted to do a different kind of family CD, one that respects the fact that kids are pretty smart.
Why did you write the Poopa Doopa Doo Doo song?
I never heard a song about that! It's just a song about learning to live in your body. I want us to feel proud of our wonderful bodies and how they work. We're all human, and it's OK to talk about things we all have in common. It's really a blast when the whole audience sings it together.
Which is your favorite song on the CD?
I like them all for different reasons. Tell me which ones you like best. Write me and let me know. The songs are about growing up, being yourself, and going on great big adventures. Some of the songs have kids going places and doing stuff they always wanted to do, things like taking a safari in Uganda (I put this in because I lead safaris in Africa and I know how fun they are) or juggling with an octopus(I never did this. Not yet, at least.) The song Ruby, the jazz-swing tune, is about what it means to be a good friend. Miryam Capella, the Jewish-Spanish tune from Greece, is a story about a girl who wants to learn how to read, back in the day when girls were not allowed to go to school. (Unfortunately, there are still some places even today where girls cannot go to school.)
Did you like to sing when you were a kid?
My mother said I sang in my crib when I was little all the time. Whenever I was lonely I would sing to keep myself company. It feels good to sing. My mother taught music so I heard lots of music in my house. I loved to sit under the grand piano when my Mom was playing because the sound of the strings vibrating was so cool.
Why are there two geese dancing on the CD?
This painting was created by my friend Annette Rubino-Buckley. I love birds and these two geese had the loving, happy, dancing energy I wanted to share on the CD. Annette also does cards and other beautiful paintings.
Who are those cats on the back of the CD?
Those are our family cats. The one playing the big bass is named Jumbalaya, and she is a tortoise shell cat, and the one playing the drum is named Sapphire. She is a fluffy Maine Coon cat. They insisted on being part of the project.
Do you have any children?
No, but I have many children I love in my life.
When did you learn to play the guitar?
I used my birthday money when I was 13 and bought a guitar for $14. I bought a book that showed pictures of where to place your fingers on the strings to make different notes sound together at once, called chords. I played just sitting around the house, hanging out in the back yard. In the beginning my fingers hurt a little but after a while they got stronger. Even when I was watching TV, I just played until I could move my fingers on the strings back and forth and make the sounds I wanted to hear. I like to put my ear to the guitar and hear the sound move in the wooden body. Anybody can learn how to play. You can do it too.
Is it different writing songs for kids?
It is more fun, because you can really let your imagination go all over the place and be crazy. I was pretty serious when I was a kid so this gave me a chance to be a kid again, only better. I like to play with words and make them rhyme and echo each other, and roll around in my mouth. I wanted to share that with you. I loved doing this CD with my friend George Wurzbach playing keyboards because we discovered all these cool instrumental sounds and sound effects that made us laugh, like the dinosaur and the dolphin in City Girl, and the bird and whale sounds on Baby Quinn. We played the music with a strong beat so we could all dance to it.
How come these songs all sound so different from one another? Is that you singing all the voices?
Yes. I like to be goofy sometimes. Your voice has a lot of nooks and crannies in it and it's fun to experiment with all the weird sounds you can make. Try it. The songs are all different because I am into different kinds of music. I wrote Fine Misty Morning to sound like an Irish folk tune sailors might sing on a ship, like a sea chanty. Huckleberry is arranged as a country tune, and That's The Weirdest Story is a 60s, "wall of sound" rock tune. I wanted to make songs the whole family could get into and sing along on the choruses together, especially in the car.
Could I write a song?
YES! Writing songs is the greatest! Don't be afraid. Write down what you feel, tell a story and make up a tune to the bounce of the words. You can do it!