"Captivating with Kabbalah Singer-songwriter Laura Wetzler is someone you
might call a contemporary klezmer: from the Yiddish 'vessel of song,' a Jewish musician who entertains and enlightens the people with the music of the past…
An ASCAP Award winning musician, Wetzler has charmed audiences throughout
the United States and overseas. She combines history lessons, personal stories, humor and song in multilingual programs… from around the world…
[Kabbalah Music] features chants, and songs of prayer written by devoted
paytanim (liturgical poets) from countries including Morocco, Spain, Yemen,
Turkey, Israel and Russia. Wetzler's voice travels up and down the scale
of emotion, expressing anguish, solemnity and ecstasy. Her voice is soothing,
steady and beautiful, much like the songs of hope she interprets…other songs celebrate the joy of total devotion with up-beat melodies and exciting instrumentals."
Elizabeth Hockstad, The Jewish Ledger
"A truly excellent recording, heartfelt, full of first-class taste, and wonderful
music that lifts off the shackle s of earth….arrangements [that are] terrific
and really fly. In fact, I'd be tempted to say these arrangements represent something of a breakthrough in Jewish liturgical music. I am so impressed by
the passion with which you sing. I do hope you consider doing an entire
Sabbath service. Jewish liturgical music could is sorely in need of a real shot
in the arm these days and believe you could provide a fresh path to travel
on…A truly remarkable achievement…truly wonderful."
Dr Elliot Kahn, Jewish Theological Seminary
"Multi-talented and award-winning singer/songwriter Laura Wetzler triumphs
on this newest release. Her roots are Jewish and she has come back to
her roots with this disc which features music representing a broad view
of Jewish mystical experience. The lyrics are ancient and contemporary, the melodies both old and new coming from Jewish communities around the world.
I was fascinated by this collection of songs. You can tell that Laura has spent
much time researching the origins, meanings and inspirations for each piece.
The liner notes are an education unto themselves. And her voice what an instrument…Sometimes haunting, sometimes ecstatic, but always full of
color and emotion, stretching its range and timbre at every turn. The production
is top-notch and Laura collaborates with a fine group of musicians including
Michael Hess, Alicia Svigals and Lorin Sklamberg. They add nice flavor and authenticity to her amazing voice and guitar talents.The opening track
"Wa-eda Ma" is a melodyattributed to Ovadia Ha-Ger (c. 1102 - 1150) a
convert to Judaism whose writings were discovered on a scroll found in the
Cairo genizah in 1917. Vocal ornamentation and tamboura accompaniment
take you back to the 12th century when you might have heard this devotion. Certainly not sung by a woman, but Laura challenges tradition by bringing things
into the modern world. Sephardic and Yeminite influences abound in many of
the melodies with authentic vocal inflections by Laura. Her "Kol HaHanesha" is
pure vocal ecstasy. "Klezmer Hechalot" takes the performer through the six
steps of the ascent of the soul through melody as Laura awakens to the music, posseses it, communes with it and finally reaches an ecstatic state. One of my favorites was "Narrow Bridge" in which Laura writes a contemporary melody to
the words of Reb. Nachman of Bratzlav. A haunting melody that will stay with
you featuring the lilting violin playing of Alicia Svigals in counterpoint to Laura's
voice. Also, included on the disc is J.J. Keki's "L'cha Dodi" from the Abayudaya
Jews of Uganda. And the bonus is that J.J. and Gershom Sizomu
sing and play on it. The closing track is new melody for "Shalom Aleichem"
written by Laura. It is truly beautiful and very spiritual a perfect ending for
a moving and mystical CD. As a vocalist myself, I always appreciate true
vocal expertise. Laura writes songs which are magical to sing and she sings them with true magic herself."
Judy Caplan Ginsburgh, Jewish Entertainment Resources
"In her new CD, 'Kabbalah Music: Songs of the Jewish Mystics' Laura Wetzler
interweaves the kabbalistic yearning of the soul for spiritual ascent with
the holy ladder of music. She traverses three millennia in time and four
continents in space, as she engages us in the spiritual longing that has
always characterized Jewish belief and practice."
Dr. Abraham Gittelson

"Loved this CD!"
Jen Sullivan, WSMU
"Featured 5 songs of the CD on our show to great response! Thanks!"
Lisa Brody, Gift of Peace, WJFF Catskills, NY
"Cool Album. The liner notes really clarify the songs. Thanks!"
Daniel Guaqueta, WUSM Mississippi

"Beautiful!"
Sue Goldwomon WORT, Madison
"Great music! It's what 's missing from so much world music."
Jim Compton-Schmidt KFCF, Fresno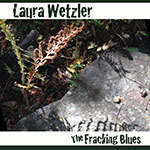 * If a player fails to display properly, please reload this page. Mobile users: Best viewed in horizontal or on larger screens.
The Fracking Blues
New EP Single!
Flying

Intimate, hard-hitting original ballads about love, loss and the beauty of old mill towns.

1. Spreading My Wings 3:29
(divorce grief)
2. If I Could Sing You Well 3:24
(dealing with a friend's illness)
3. Flying 5:48
(true family story of two sisters during the Holocaust)
4. The Arbor 4:31
(long-haul love song)
5. Open Window 2:57
(up-tempo country love song)
6. Part of the Game 4:51
(baseball park bully tune)
7. Love, You Are A Mystery To Me 3:54
(one more chance love song)
8. Cape St Mary's Newfoundland 4:26
(Oh, Canada! bird watching epiphany)
9. Choices 3:18
10. High on a Hill 3:09
(rural life mill town tune)
---
Kabbalah Music

Songs of the Jewish Mystics
1. Wa-eda Ma (3:32)
Ovadia HaGer, 12th cent. Italy
2. Kol Haneshama Meditation(5:36) Hebrew poetry vocal meditation
3. Narrow Bridge (6:00)
Reb. Nachman/Laura healing meditation
4. Im Ninalu (1:49)
Yemenite wake up call
5. Bar Yochai (5:49)
Moroccan/Calcutta sephirot teacher ode
6. Respóndemos (1:50)
Judeo-Spanish devotional
7. Klezmer Hechalot (3:06)
Laura gets klezmer in palaces of heaven
8. Jacob Wakes Up (4:05)
Yes, that ladder
9. L'cha Dodi (4:24)
from Uganda
10. Shechina Blessing (2:28)
11. Yom Zeh (2:44)
Spanish tune/ words by the Ari
12. Dudele (3:09)
Yiddish dream duet with Alicia
13. Tkhine of Sarah Bas Toivim(2:52)
a women's view of the world to come
14. Ya Ribon (4:57)
praise song ecstasy
15. Shalom Alechem (3:48)
Laura's peace meditation
---
Songwriter's Notebook

1. HOLD ON (3:03) folk rock bad day at work lullaby
2. ANNIE (3:07) story song about a developmentally disabled young woman named, "Annie"
3. TAKEN BY SURPRISE (2:32) Americana-manic loss-widows lament
4. WONDER (4:29) folk wake up love song
5. UNION STREET (3:28) uncommon Blues tour of NYC's Gowanus canal neighborhood
6. SHADOWS (3:39) How'd we get here? love song
7. BROKEN TIES (3:11) Americana, survivors kit
8. CHILDREN OF ABRAHAM (3:50) Mideast Peace song
9. DEEPER THE TOUCH (4:56) middle of a fight ballad
10. B' MAKOM IN A PLACE (2:08) Mideast, ancient text roots tune based on Hillel, 2 century, c.e.
11. THE TASTE OF YOU (3:13) late night ballad.
---
Again! Again! Songs for Kids
1. Baby Quinn
2. Poopa Doopa Doo Doo
3. That's The Weirdest Story
4. Huckleberry
5. Miryam Capella
6. Fine Misty Morning
7. Alexa
8. City Girl (Andie)
9. Ruby
10. Willy Nilly (Bryce)
11. Going to the Park