I am very excited about the new CD Flying. Took a risk opening the album with 3 ballads but I figured, what the hell, I might as well just put it out there. Flying is a very intimate collection of real life, mostly guitar based story songs, recorded as if I were sitting on the edge of the bed singing and playing with a few friends on a summer night. I wrote these songs to help me figure things out. I don't know if anyone will like this album but I'm proud of it.
Danny Bernini, my engineer at Spirithouse was a great support, and the other musicians make up my dream band: Wes Brown, stand-up bass, master musician and dear friend, is a great gift to my musical life, as always. It is always a more fun gig with Wes on stage. My brilliant friend George Wurzbach is the rolling Celtic piano wizard on Cape St Mary's. Ace musician Joel Martin plays strong and gentle on If I Could Sing You Well, which was written for my best friend Alice. Joe Boyle added cool atmospheric electric guitar on The Arbor, some sad twang on the bully tune Part of the Game, and a little homesick acoustic to the road song High on a Hill. Thanks to the legendary Jim Armenti on mandolin who lifted Open Window to happy ecstasy. Stephen Katz added just the touch of cello we needed on Flying, the true story of how my mother in law Ursula and her sister Helga were caught smuggling anti-Hitler newspapers into Germany when they were just teenagers. Keith Levreault brought a great percussion feel for Love, You Are A Mystery To Me and Cape St. Mary's.
Paul McNamara helped us out with some layered accordion lines in Part of the Game. After many experiments with different arrangements, the band and I kept paring down to the essentials.
Thanks to Ginette Callaway for the CD art and Lisa Carta for help with design. I love Ginette's vibrant painting and find every rich detail beautiful and interesting. I first saw the image published in a nature magazine and kept being drawn back to it as I was recording the CD. I wanted to avoid the usual flying clichés for the cover. I always think of singing as painting a lyric. Ginette's painting explores feelings, colors, textures, and motion just as we tried to do musically on this album.
Audiences have been asking me to record the songs on this CD for a long time. It means a lot to me to get them into the world finally. Thanks for listening. Please email meand let me know what you think.

If you are into a more wild and crazy, band-oriented music ride, check out the reissue of my first CD of originals, Songwriter's Notebook.
In other news, I'll be leading the "Jewish Life in Uganda Wildlife Safari and Mitzvah Tour" this year Jan. 15-29, 2012, our 9th trip.
Click here for a very sweet honor and slide show from Kulanu.org about projects I've worked on with the Abayudaya. BTW, I have been invited back to sing in Amsterdam on the way home from Uganda Feb.5. Please keep in touch and hope you like the new CD, Flying.
Love, Laura
---
Very busy launching the new website and new kid's CD. There is a lot of love in these songs because I wrote them for real kids in my life. I can't tell you how much fun it was working with my co-producer, brilliant George Wurzbach, in his NYC studio, recording these tracks in the most musically inventive way we could think of. It was one of the most pleasurable musical experiences I have ever had in the studio. We had lots of
laughs, particularly over choosing the sound effects. I played acoustic guitar, George covered keyboards and many other instruments (genius musician- that's George playing real banjo and sax on the keyboard, and so much more.) The fabulous Jim Armenti & Jim Matus helped us out on mandolin and electric guitars, and Jason Moses did a little fiddle touch on Ruby. Alexis Neubart worked with me on the overall CD design, with help from Madelaine Zadik.

Annette Rubino- Buckley is our cover artist and her beautiful dancing geese share just the feeling I was looking for. See her more of her art and cards at her website.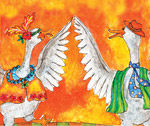 Although I started teaching kids when I was 15, most of my audiences today are adults. This is my first "family" CD. My goal was to make something more interesting than I was hearing in the children's music world. I wanted songs that parents and grandparents could get into and sing with the kids in the car. That was my goal anyway.

When I was a kid, I learned every word to the songs I liked in musicals, old movies and TV: Frank Loesser's Hans Christian Anderson, the patter songs of Danny Kaye and Sylvia Fine, Rodgers & Hammerstein, and especially, the Beatles. I wanted to write lyrics that help kids have fun with the English language through playing with rhymes, set in melodies with strong hooks in the chorus for the little ones to sing, and interesting story verses for the older ones to get into. Without my realizing it when I wrote them, I guess all the songs affirm unconditional love. Poopa Doopa Doo Doo is about loving yourself and your body without shame. Huckleberry says: be who you are. Miryam Capella fights for her rights with support of her mom and goes out and creates the world she wants to live in.

My dream is to do children's books from the songs someday. We are exploring music video and animation, at least for Youtube, perhaps including my cartoons. Please write me and let me know how you like Again! Again! and the new website navigation. I leave for Uganda in January and I am back touring in February.

Thanks for all your support! Love, Laura