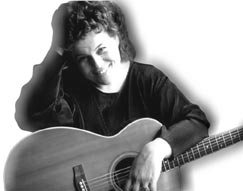 For Immediate Release Contact: Maggie Sash 1 (413) 634-5617 EST NYC, USA
This email address is being protected from spambots. You need JavaScript enabled to view it.
---
Keys Concert Review
Click here to read the entire review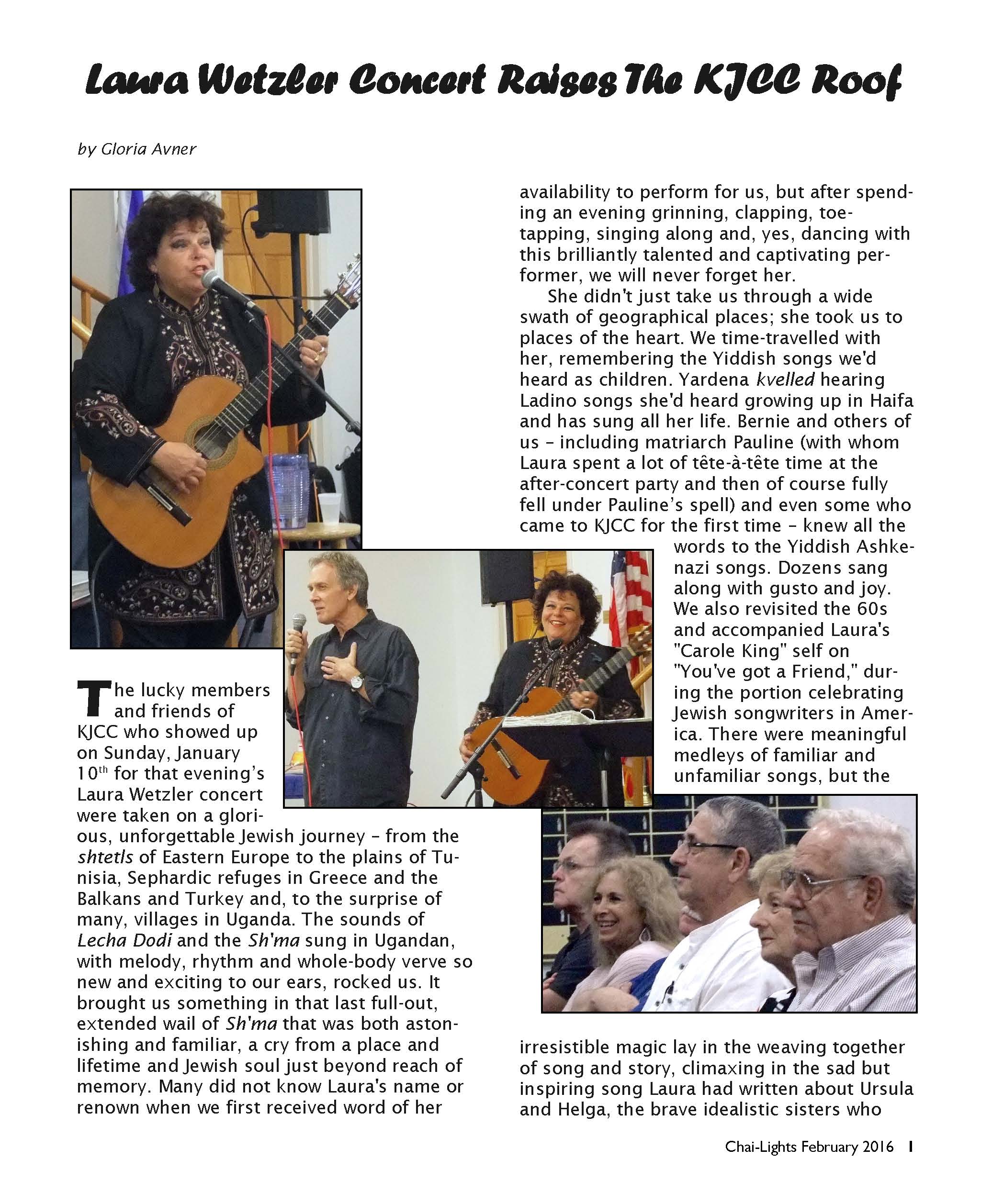 ---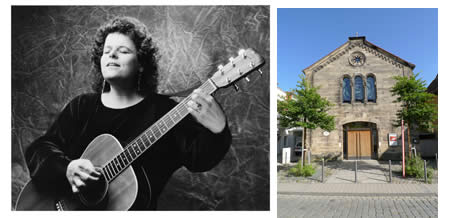 BACK BY POPULAR DEMAND!
A Wetzler Sings in Kronach Again
130 Years later American singer-songwriter Laura Wetzler is invited to present a concert in the synagogue where her great-grandfather sang.
American musician Laura Wetzler was surfing the internet one day and decided to type in some ancestral family names. Up popped Alemannia-Judaica.de, a website documenting the history of Jewish communities in Southern Germany, run by Dr. Joachim Hahn and a volunteer group of institutions and individuals. Laura was surprised to find 19th and early 20th century articles scanned in about her great grandfather, Moses Wetzler.
From 1883 to 1921, Cantor and high school teacher Moses Wetzler was the lone Jewish ritual leader in Kronach, a small mountain town in the Franconia region of Germany. Moses and his wife Jeanette Heidelberger Wetzler raised twelve children in Kronach, including Laura's grandfather Max.
Cantor Moses was leader of services, teacher of Torah, kashrut supervisor, and ritual authority, working professionally under the direction of the district Rabbi in distant Burgkundstadt. Moses' voice filled the small synagogue and served his congregation of about 100 people for 38 years.
Laura, a New York singer songwriter guitarist with a specialty in Jewish songs from Africa, Asia and Europe, vaguely remembered hearing that her great grandfather had been a Cantor but was shocked to read about her ancestor on the internet.
The Alemannia-Judaica.de articles, originally published in the German Jewish newspaper "The Israelite", paint a picture of Jewish life in Kronach in the 1880s. They make note of the availability of student lodgings in the Wetzler home, run by his wife Jeanette, the long suffering mother of twelve. The articles document a celebration of Cantor Moses' 25th jubilee year at the synagogue, during which time the local Cecilia Choir sang in tribute. Finally, in 1923, after his retirement to Frankfurt, an obituary was published detailing Cantor Wetzler's many years of service.
In addition to articles on her great grandfather's work, Laura also discovered photos showing that the Kronach Synagogue building Moses worked in had miraculously survived Kristallnacht, the 1938 Nazi terrorist action during which most of the synagogues of Germany were destroyed. The Kronach Jewish community had been forced to "sell" the synagogue even before Kristallnacht, and the building itself had survived the war relatively intact. Devastatingly, the Jewish community of Kronach did not survive the Nazi era.
Laura's grandfather Max had moved as a young man to Frankfurt. Max and his wife Elsa Oppenheimer Wetzler, daughter Margot, and son Rudi Wetzler (Laura's father), a young member of the Reichsbanner anti-Nazi resistance movement, escaped, coming to New York's German Jewish refugee community in 1935. Many in the extended family did not survive.
After years of neglect as a crumbling down warehouse, today the former Kronach Synagogue has been restored for use as an educational and cultural center by a group of a new generation of Germans. In 2002, after years of work and against all odds, members of the volunteer group Aktionkreis (Action Circle) Kronach Synagogue, including the late Willi Zaich, his wife Gisela, and their daughter, Dr. Katja Zaich, recovered the building, and by so doing, uncovered the history of the Jewish community. Laura emailed Dr. Katja Zaich, author of a book on the synagogue, to thank the group for refusing to allow German Jewish history to be buried in the town of Kronach, and an idea was born.
Laura's mother Rosalie had also been a synagogue music director, and Laura grew up in New York singing both Jewish and American music professionally from the age of 15. Laura now performs over 100 concerts and lectures a year around the world, and has released five music CDs distributed by cdbaby, itunes and amazon. In addition, she has created many volunteer development projects with Kulanu.org and the Abayudaya community in Uganda, and she travels widely. Coincidently, Laura already had other concerts booked in Europe this year.
One hundred and thirty years after Cantor Moses and Jeanette Wetzler began their life in Kronach, American singer-songwriter-guitarist Laura Wetzler has been invited to present a concert in the very same synagogue where her great grandfather sang for almost forty years. To honor Cantor Moses and Jeanette Wetzler, the memory of the Jewish community of Kronach, and the people today responsible for preserving vital history in Germany, Laura Wetzler will present a concert of original music, worldbeat Jewish songs from Africa, Asia & Europe, and great classics from the American songbook. Sunday, June 16, 2013, 5pm (17:00) at The Historic Kronach Synagogue, Johann-Nikolaus-Zitter-Straße 27
Contact: Maggie Sash 413 634-5617
This email address is being protected from spambots. You need JavaScript enabled to view it.
---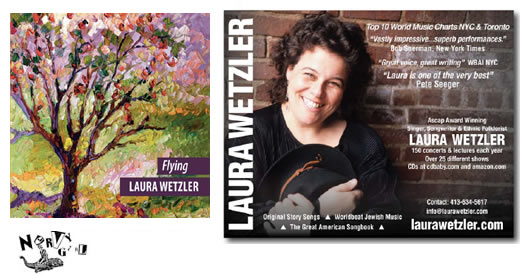 For Immediate Release
Contact: Maggie Sash This email address is being protected from spambots. You need JavaScript enabled to view it. Nervy Girl Records
(413) 634.5617/413 320.5553 www.laurawetzler.com
For an airplay and press review copy of Flying please email us: This email address is being protected from spambots. You need JavaScript enabled to view it.
with your snail mail address and affiliation. Please let us know if we make your playlist and where you post your reviews so we can publicize your work. Thanks! More info and photos at www.laurawetzler.com/presskit
Singer-Songwriter Guitarist Laura Wetzler's New CD FLYING
Sept. 15, 2011 Nervy Girl Records proudly announces the release of singer-songwriter Laura Wetzler's new CD, Flying, an intimate, hard-hitting collection of original story songs about love, loss and the beauty of old mill towns. Laura Wetzler tours in over 150 performances each year, singing original story songs, worldbeat Jewish roots music from Africa and Asia, and the great classics of American song.
Flying CD w/ lyric booklet and downloads available at cdbaby.com, amazon & itunes.
CDs: Songwriter's Notebook (1999/reissued 2011) Kabbalah Music (2002) Again! Again! Songs for Kids (2009) Flying (2011)
Quote from Laura:"We took a year making Flying, in between touring. The band and I recorded a lot of music, but we kept paring down to the essentials. The music is stripped-down by design, trying to get to the core feeling of the tunes, exposed and intimate. Scary. "
10 Songs
Spreading My Wings looks back while moving forward, post break-up.
If I Could Sing You Well was written for a friend with cancer.
Flying-is true family story about two teenage sisters caught smuggling anti-Hitler newspapers into Nazi Germany.
Part of the Game, deals with (or fails to deal with) a minor league baseball bully.
The love songs: Love, You Are a Mystery to Me explores second chances, Open Window flies on the pure high of the new thing. The Arbor waxes metaphorically on the fun of long-haul construction.
Cape St. Mary's, Newfoundland is a bird-watching epiphany.
Choices was written while watching a political uprising on TV while on tour in Amsterdam.
High On A Hill is a tune about hard times in an old mill town.
CD Credits: Produced by Laura Wetzler, Flying features Laura on voice & guitar, Wes Brown on stand-up bass,
Joe Boyle on backup acoustic & electric guitar, Keith Levreault on percussion, George Wurzbach & Joel A Martin on piano, Jim Armenti on mandolin, Steve Katz on cello, & Paul McNamara on Hammond B3 keys. Recorded, mixed, and mastered by
Danny Bernini (formally of the Hit Factory) at Spirithouse Recording Studios, Northampton Ma. Painting by Ginette Callaway.
Bio: Laura is a native New Yorker. When not on the road singing, or at her home in the Berkshire mountain hill towns, Laura volunteers in Africa. Since 2002, (post 9/11) Laura has helped create and facilitate 20 different anti-poverty and educational projects with Abayudaya villagers and Kulanu.org. Laura created the award-winning "Delicious Peace" interfaith, fair-trade, organic coffee project with Ugandan farmers and their families, now the subject of a film documentary.
What critics have said about Laura's previous CDs:
"Impressive poetic gifts." Robert Sherman NY Times/WFUV Woody's Children
"Airwaves Top 10" The Phoenix
A rich resonant voice weaving traditional, ethnic and contemporary threads into
intelligent, literate songs." Richard Fox, WCUW
"Simple beauty...big ideas" Larry Parnass Daily Hampshire Gazette
"Laura can belt out a song with the best singers on the circuit…Hold On is the kind of conversation that is rarely heard except around a kitchen table late at night." Vic Heyman, SINGOUT!
"Hauntingly beautiful" Radio Montreal
"Whether it's an ode to the infamous Gowanus Canal or to the fabulous adventures of a developmentally- disabled woman named Annie, Laura Wetzler paints portraits like nobody else." Steve Boockvar WORTV
"A consummate performer with a powerful, yet refined voice. She brings a wealth of knowledge of traditional styles to her own finely crafted songs. A terrific evening." Richard Cuccaro FAST FOLK/Acoustic Live NYC
"folk music is alive and well" Martha Southgate, NY DAILY NEWS
"Almost the entire singer/songwriter definition can be found here with examples of each. She can project folk, folk-rock, blues, world music and Americana. But even more than the breadth of style, which she cavorts around with smooth transitions, is the warm feeling she brings to every genre touched upon." FACE THE MUSIC
"...singer-songwriter Laura Wetzler grabs a listener and won't let go. Her songs veer
from state of the art acoustic-pop to jazz shuffle to country driven two steps to world beat influenced originals…intimate portraits and song poems. Best of all is Wetzler's voice,
which boasts a colorful expressive range from pretty, whispery smooth to jazzy,
sexy rasp." Seth Rogovoy WAMC Public Radio.
"Laura Wetzler was a real find for me;-a clear soaring voice, exceptionally compelling."
NEW DIRECTIONS, NYC
"A rare talent, moving artistry" Ken Meltzer WQED Public Radio
"Laura's songwriting is superb and her words continue to come back to you when you least expect it. She can hold her own with Shawn Colvin, Lucy Kaplansky, Richard Shindell or John Gorka." Howard M. Stern, Uptown Concerts, NYC
For an airplay and press review copy of Flying please email us:
This email address is being protected from spambots. You need JavaScript enabled to view it. with your snail mail address and media affiliation.
Please let us know if we make your playlist, and where you post your reviews.
More info and photos at www.laurawetzler.com/presskit
Contact: Maggie Sash This email address is being protected from spambots. You need JavaScript enabled to view it.
(413) 634-5617/413 3205553 www.laurawetzler.com
---

Contact: Maggie Sash This email address is being protected from spambots. You need JavaScript enabled to view it.
413 634 5617 www.laurawetzler.com
For information on 24 different programs and downloadable press photos,
Visit www.laurawetzler.com/presskit
For Immediate Release

"Top 10 World Music Charts" Toronto & NYC
"Beautiful" Michael Eck, WAMC Performance Place
Kabbalah Music CD named in "1000 Recordings to Hear Before You Die"
by Tom Moon NPR
"Great" Michael Stock, Public Radio WLRN, Miami
"Laura is one of the very best" Pete Seeger

Singer Songwriter Guitarist Laura Wetzler
Releases First Family CD, Again! Again! Songs for Kids
Available now at CDbaby.com and Amazon.com.

Nervy Girl Records celebrates the release of singer songwriter Laura Wetzler's new album, Again! Again! Songs for Kids, with CDs and digital downloads now on sale at cdbaby.comand amazon.com. ASCAP Plus Award-winning singer, songwriter, & ethnic folklorist Laura Wetzler tours internationally in over 150 concerts each year, singing original story songs, worldbeat music, and the great classics of American song. Her previous CDs include Songwriter's Notebook & Kabbalah Music.

Fun, catchy, wordplay adventure songs for kids of all ages
Laura's original car bopping, rock, folk, country, Latin, Celtic, swing and pop tunes take off in flights of the imagination, and land with a gentle ballad. Again! Again! Songs for Kids is designed to inspire a love of words and to respect the intelligence of both kids and parents. The Laura Wetzler Trio, featuring Latin, African and Mid-east percussionist Richie Davis and bass player Wes Brown (of Black Rebels fame) will be touring in select family concerts in support of Again! Again! in 2010.

Laura Wetzler began singing professionally at the age of 15. She has composed for independent film, television, and her critically-acclaimed CDs, Songwriter's Notebook, and A World of Jewish Music, Kabbalah Music: Songs of the Jewish Mystics, as well as the single, To Save A Life available from cdbaby.com and amazon.com, are heard on 750 radio stations around the world. Laura has shared stages with such artists as Pete Seeger, Odetta, Richie Havens, The Klezmatics, and many others. Meticulous research goes into creating Laura's 24 different concert/lecture programs featuring new originals and classic American music and Jewish music from around the world. For 7 years she has volunteered as Kulanu.org Coordinator for Uganda, leading safaris and working on 20 different humanitarian projects in Africa with the Abayudaya community. Laura is co-creator with Abayudaya Ugandan coffee farmer JJ Keki of the Delicious Peace fair trade organic coffee project, an interfaith sustainable development project for which she shares a Global Citizen Award from Tufts University.

Again! Again! Songs for Kids features lyrics about:
• living in a body (Poopa Doopa Doo Doo)
• being yourself (A Boy Named Huckleberry)
• exploring the world (That's The Weirdest Story)
• girl power (Miryam Capella)
• and being a true friend (Ruby)
Quote:
"I wrote these songs for kids I love in my life. My goal was to make something more interesting than I was hearing in the children's music world. I wanted songs that parents and grandparents could get into. When I was a kid, I learned every word to the songs I liked in musicals, old movies and on TV: Frank Loesser's Hans Christian Anderson, the patter songs of Danny Kaye and Sylvia Fine, Rodgers & Hammerstein, and especially the Beatles. I wanted to write lyrics that help kids have fun with the English language through playing with rhymes, set in melodies with strong hooks in the chorus for the little ones to sing, and interesting story verses for the older ones to get into. Without my realizing it when I wrote them, I guess all the songs affirm unconditional love."

Again! Again! Songs for Kids was co-produced in NYC by Laura Wetzler and George Wurzbach. Laura performs all the voices and plays acoustic guitar, with multi-talented George Wurzbach covering keyboards and percussion, Jim Armenti playing mandolin and electric guitar, and Jim Matus and Jason Moses on electric guitar and fiddle. Cartoon images by Laura Wetzler and CD cover art by Annette Rubino-Buckley.

"An amazingly gifted singer, songwriter and ethnic folklorist."
David Amram, composer
"Laura Wetzler's extraordinary voice, great songwriting, solid scholarship, mastery of so many musical styles, fantastic audience rapport, and infectious love of learning make her an artist of the highest caliber." Linda C. Jum, MetroWest

Contact: Maggie Sash This email address is being protected from spambots. You need JavaScript enabled to view it.
413 634 5617 www.laurawetzler.com For information on 24 different programs and downloadable press photos and images,
Visit www.laurawetzler.com